Hurrah for the coming of awards season, kicked off last night with The Golden Globes as stars from around the world descended to celebrate another year of film. Here's all you need to know about the night.
Benedict Cumberbatch's Photobomb
After successfully photobombing U2 at the Oscars last year, Mr Cumberbatch is back on form as last night he managed to get involved in a snap of Meryl Streep with

Margaret Cho

who played a North Korean general. Priceless.
Stars Held Up 'Je Suis Charlie' Signs
It was wonderful to see solidarity at this year's Golden Globes, and stars turned out to show their unity by holding signs reading 'Je Suis Charlie' in the wake of the Paris tragedies. Other stars to hold up signs included Diane Kruger, Patricia Arquette, Cathy Bates and Amal Clooney, who wore a badge on her clutch.
Eddie Redmayne, Ruth Wilson and Joanne Froggatt (Downton)
all won awards last night, most notably Redmayne's for his role as Steven Hawking in The Theory of Everything.
Taylor Swift Partied With Her BFFs
Amongst the married couples, new loves and mums-to-be, songstress Taylor Swift arrived with her posse of gals to celebrate the Golden Globes in style. Joining her were Selena Gomez, Lorde and Lena Dunham. Who needs boys huh?
Chrissy Teigen Won the Award for Best Cry Face
John Legend's wife had a pretty emotional response to his Golden Globes win last night, and her reaction went viral. Rivalling that fugly Kim K cry face, Teigen took it in her stride tweeting "it's been 5 minutes and I'm a meme", followed by a silly faced selfie with her husband.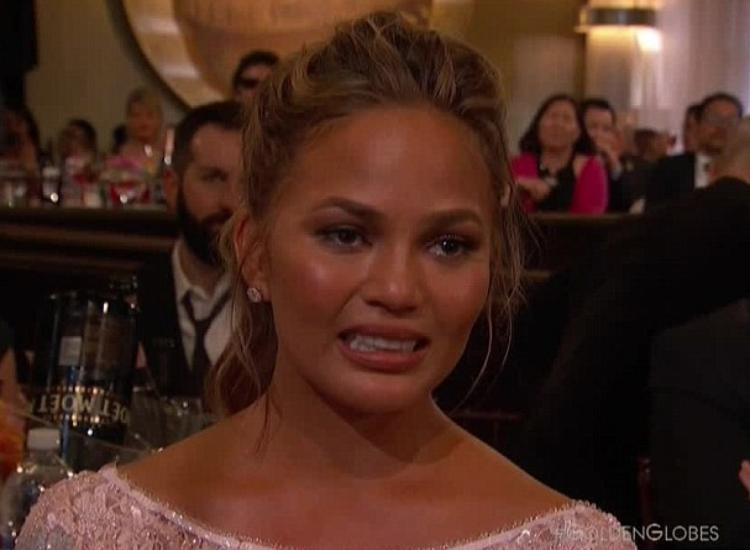 George Clooney Recycled His Wedding Tux
Back in September, silver fox George Clooney wed Amal Clooney in Venice in front of their star-studded guests. Backstage last night he admitted his outfit was exactly the same as his wedding attire, but more adorable was his acceptance speech:
"It's a humbling thing to find someone you love. Even better if you've been waiting your whole life...Amal, whatever alchemy it is that brought us together, I couldn't be prouder to be your husband."
Conchita Wurst Took to the Red Carpet
One word: Fierce. Wearing a velvet, emerald green piece, Conchita sauntered down the red carpet looking pretty darn classy.
The Realisation that Jessica Chastain and Amy
Adams Look So Similar
Do you know what I mean?!
Can We Just Talk About Colin Farrell's Moustache?
Sleazy 70's detective comes to mind...
In other news: Kevin Spacey dropped the F Bomb and J Lo got complimented on her chest by cheeky chappy Jeremy Renner.