Teeny bopper Justin Bieber can't stay out of trouble long as his past came back to haunt him. A video of the singer as a 15-year-old was released as he sniggered whilst telling a racist joke.
The blurry footage shows the Baby singer who asks "Why are black people afraid of chainsaws?"
*rolls eyes*
Mimicking chainsaw noises, the teen then exclaims "Run n****r, n****r, n****r, n****r, n****r.". The shocking video was originally filmed as part of his Never Say Never movie in 2011- I wonder what his fans would have thought back then?
Bieber took to Twitter in an attempt to rectify himself in a statement saying
"As a young man, I didn't understand the power of certain words and how they can hurt. I thought it was OK to repeat hurtful words and jokes, but didn't realize at the time that it wasn't funny and that in fact my actions were continuing the ignorance"
15 YEAR OLD BIEBER
He continued saying "I take my friendships with people of all cultures very seriously and I apologize for offending or hurting anyone with my childish and inexcusable mistake. I was a kid then and I am a man now who knows my responsibility to the world and to not make that mistake again."
Others have jumped to the singer's defense- former bodyguard Kenny Hamilton said he didn't think the 20 year-old meant what he said.
"We all make jokes about people's size, look, or race. That doesn't mean it's right but comedians make millions of dollars profiting off these jokes"
Boxer Floyd Mayweather also defended Bieber, posting a picture of the pair on Instagram- they have been friends for a number of years now, with him saying
"Justin has been nothing but kind to me, my daughters and sons over the years.
We all make mistakes when we are young, it's part of growing up. I am proud of what he's doing as a 20 year old musician and business man."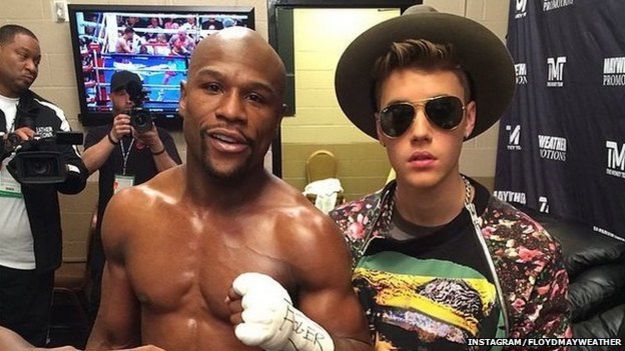 A Florida judge recently delayed his trial for driving under the influence until July.